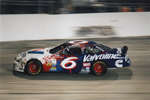 This site will be undergoing a MAJOR facelift over the next few months. If you haven't heard, Marks sponsorship will be PFIZER and VIAGRA for the 2001 racing season. Rumors have been flying as to why VALVOLINE will not be the major sponsor next year, I can only speculate as to why. I have only a few pics of the new car for next season, and will post more as they become available. Thank you to all who have visited my site and voted for it.
Racing is in my blood. Whether it's NASCAR, World of Outlaws, Indy, SCCA, or Offroad...if it goes fast and smells of racing fuel and hot tires, I've got to see it!!! I know it's only my opinion, but auto racing is the most adrenaline pumping, heart pounding, skull crushing thrill ride there is!!! No drug can do all this!!! Stay drug-free!!! Go fast...turn left!!! And remember, if you ain't got dirt in your beer, you ain't at a real race!!!
If anyone out there has a racing site, or information they would like to see on this site, please use the e-mail link at the bottom of this page! And please visit some of the racing links I've listed below!
I know everyone has a favorite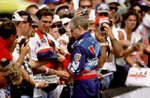 driver and their own opinion, mine stands that Mark Martin is one of the GREATEST all around sportsmen there has ever been. I've seen so many "Professional" drivers put the blame on someone, or something, else for their misfortune. I won't name names here. I've NEVER seen Mark blame anyone but himself, or just plain "Racin' luck". I've seen him on more than one occasion simply state, "I screwed up". How many others in the sport have you seen do that?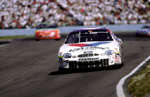 Mark is also one of the most physically fit drivers on the circuit. So, I ask you: How can you not like a guy like that?