I've been a drummer for 16 years now. (makes me realize how old I really am) I play TAMA drums exclusively. I am the proud owner of a '95 model, 9 piece set of TAMA Artstar II's. They are "Imperial blue" and certain ways that stage lighting shines on them, changes them to shades of purple and black. The thunder from the bass drums is amazing! And the snare is wood and matches the rest of the set. I also use ZILDJIAN cymbals exclusively. (except for a set of PAISTE hi-hats)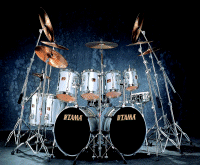 This is not an actual picture of my kit.
Although the setup is an exact match and the cymbals are close.
I started playing a little later in life than most I guess. I was 14 when I got my first set of drums. I must have driven my parents crazy, but they always encouraged me no matter what. I guess I was really lucky to not have snotty neighbors also. My first set was an off brand, 4 piece kit with 1 cymbal and a hi-hat. I went from that to '71 10 piece double-bass set of Rogers. Talk about being on top of the world. A drummer friend told me once, "There's nothin' like a new kit". He was right! Whether they are "Showroom" new, or just new to you.